Bio
Getting to know KC
.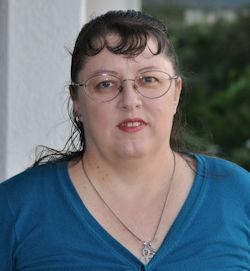 Back in 1967, KC was born on the morning of a black Monday on the Sunshine Coast north of Brisbane, Queensland, Australia. She is the eldest of two brothers and two half brothers. Ever since she can remember, KC has always been an avid reader. While still an avid reader, her books now compete with computer time.
Discovering a knack for using a word processor and the computer, KC expanded her computer use to learning HTML and CSS, a 2D and 3D (as a user, not as a content creator) graphics programs. All of which she now uses to help create and promote her books. When she's not procrastinating with facebook and games.
At the beginning of May 2001, things changed slightly for her and her partner. They were in an accident they were not at fault for. Both survived but both suffered injuries and KC, having damaged both feet, now walks permanently with crutches since that day. While she does tend to lead a somewhat quiet and secluded life, she still smiles shrugging off her aches and pains at times and does manage to go out sight-seeing on the odd occasion.
In October 2009, KC followed up on a 21 year old dream by enrolling in a nail technician's course. During a dip into a particular pond forum and discovering stories by other members, it sparked the first story of her 'Unnaturals of Brisbane' series. Juggling the course and writing wasn't easy but she couldn't not write it. Especially after the base concept haunted her dreams for the following week after the first time she had dreamt it. It led to a writing spree for the next year and a half.
It was during 2010 that she was encouraged to publish her stories and decided to go down the self-publishing road. She is modest about her writing and doesn't believe she is anywhere near the quality of some of her favourite authors. Either way, she has the basics of at least six more stories for her to work on and is saving up the money to get them published. Therefore, the series is not going to be a short lived one.
KC loves the colour blue, her favourite flower is a carnation, her favourite band is Queen and likes all forms of music except most country and opera. She enjoys meat, prefers to eat her vegetables raw and those that can't be (excluding potatoes and onions) she just doesn't eat them. Loves chocolate, icecream, tea (not coffee), mangos and most other common fruits and enjoys Kelloggs fruitloops and cocopops among a few other cereals. She also loves playing puzzle type computer games, watching tv and movies and, naturally, loves reading.
While she might not live life to the fullest by others definition, KC still enjoys what she does do with her life. What she enjoys the most, when not reading, is having long discussions over something her and her friends have been watching or reading. Even after 25+ years together she is always quick to turn to her best friend when she needs help with any kind of problem; including her writings.
Oh... while her technique is good, KC failed her nail course; she's too slow to be a professional nail tech. She keeps her skills up by doing the nails of her family and close friends.